All Day Menu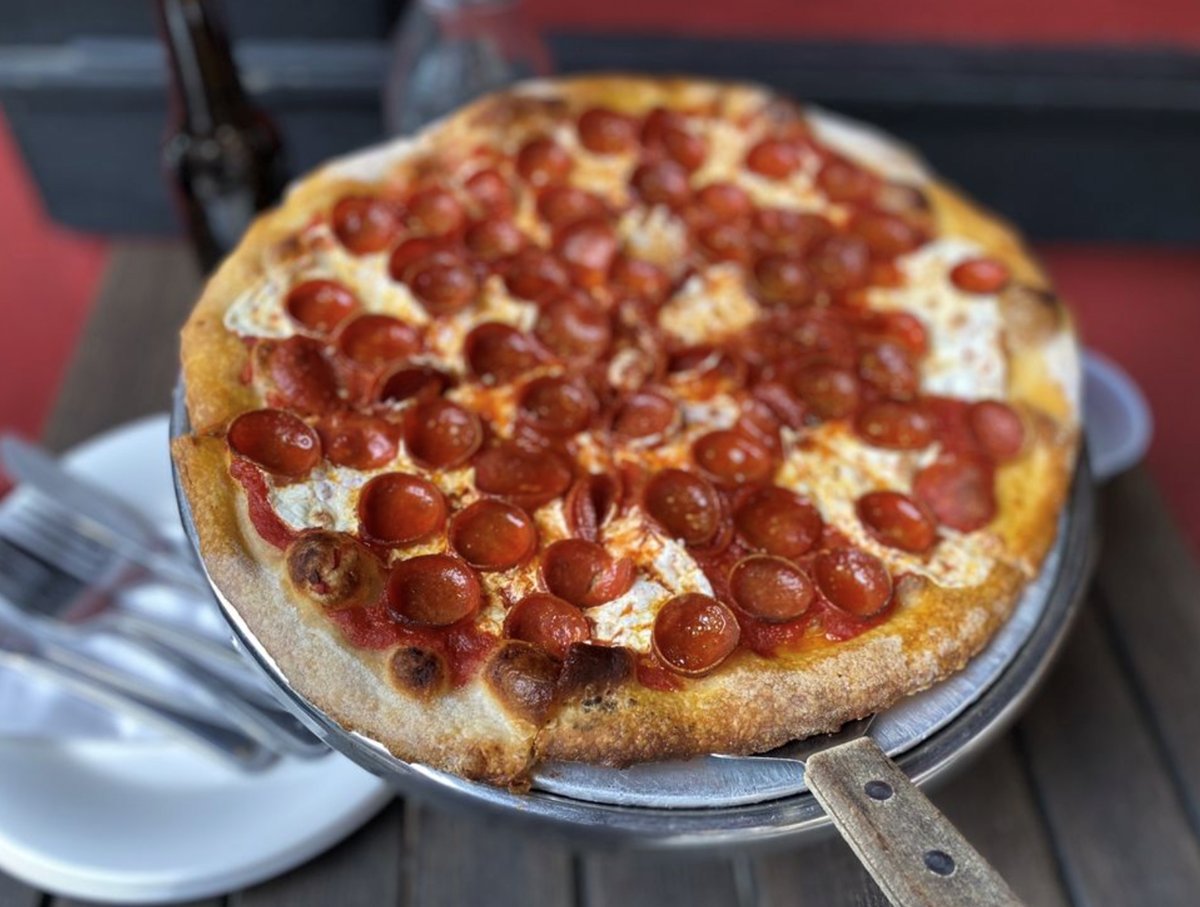 Welcome to America's First Pizzeria, Est. 1905
APPETIZERS
HOUSE SALAD
Organic mixed greens, mushrooms, red onions, ripe tomatoes in our house vinegarette
CAESAR SALAD
Traditional dressing infused w. anchovies. Served w. rustic toasted croutons & topped w. shaved parmesean cheese.
CLASSIC WEDGE SALAD
Iceberg wedge lettuce served w. House-Made chunky blue cheese, chopped tomatoes, red onions & bacon bits
GRANDMA GRACE'S MEATBALLS
Two 4 oz. Meatballs (beef & pork). Topped w. Grandma's Sunday Gravy & Shaved Romano Cheese.
TOMATO & MOZZARELLA
Three whole milk mozzarella balls w. sliced fresh grape tomatoes topped w. extra virgin olive oil.
Italian Wings
8 Pieces of Italian Wings with a Lemony Zest.
PIZZA
ORIGINAL MARGHERITA
Fresh mozzarella, tomato sauce, topped with roman and basil
OUR WHITE PIZZA (NO TOMATO SAUCE)
Fresh mozzarella, ricotta, romano, garlic, herbs and basil
BUDDY'S "CAKE BOSS" SPECIAL PIZZA
Fresh mozzarella, tomato sauce, prosciutto, arugula, topped with romano and basil.
OUR FAMOUS CLAM PIE (LIMITED AVAILIBILITY)
Fresh shucked clams, garlic, oregano, Romano cheese, black pepper, topped with parsley and a lemon on the side. Appox 3 dozen chopped clams. (May contain shells and sand)
Rustic Double Pepperoni
Red Pie Topped with Extra Pepperoni.
Sausage, Peppers and Onion
Red Pie, Sweet Garlic Sausage, Peppers, Onion.
Pesto Pie
White Pie with Basil Pesto.
Pepperoni, Pancetta, Onion
Spicy Pepperoni, Italian Ham, Red Onion.
Spinach, Ricotta, Pancetta (White Base)
White Base, Garlic, Spinach, Ricotta and Italian Ham.
Spinach & Tomato (White Pie)
White Base, Garlic Spinach, Tomato.
Eggplant & Ricotta (Red Pie)
Red Pie, Breaded Eggplant, Ricotta.
Meatball & Ricotta (Red Pie)
Red Pie, Meatballs (Beef and Pork), Ricotta.
PASTA
Rigatoni and Meatball
Rigatoni in Our Red Sauce with a 4 oz. Beef and Pork Meatball.
Tagletelle with Basil Pesto
Tagletelle with House Basil Pesto.
Ravioli
6 Extra Large Ravioli Topped with Our Red Sauce.
Eggplant Siciliian
Unbreaded Eggplant, Romano, Tomato Sauce and Rigatoni.
CLASSIC CHICKEN SPECIALTIES
Classic Parmigiana
Fresh Mozzarella, Commodore Sauce, Romaine, Basil, Rigatoni.
Chicken Milanese
Arugula, Lemon, Shaved Provolone.
CALZONE & STROMBOLI
Personal Calzone
A specialized half moon of our fresh dough stuffed with Ricotta, Whole Milk Mozzarella, Herbs & Spices. Includes choice of any 2 toppings. Served with a side of sauce.
Pepperoni Stromboli
Pepperoni Mozzarella Baked Crecent Roll, Pepperoni Gravy Served on the Side.
TOPPINGS
PREMIUM TOPPINGS Whole/Half Toppings
Meatball (beef & pork), Coal Oven Sweet Roasted Red Peppers
REGULAR TOPPINGS
Pancetta, pepperoni, Sweet Italian sausage, Anchovies, Ricotta Impastata, Extra Fresh Mozzarella
VEGETABLE TOPPINGS Whole/Half Toppings
Sautéed Garlic Spinach, Sliced Tomatoes, Red Onions, Kalamatta Olives (may contain pits), Mushrooms, Extra Tomato Sauce.
WINE
RED
Chianti, Cabernet Sauvignon, Merlot, Montepulciano
WHITE WINE
Pinot Grigio & Chardonnay
SANGRIA
House-made Red Wine Sangria
BEER FULL BAR AVAILABLE
DRAFT BEERS
Brooklyn Lager, Yuengling Traditional Lager,Stella Artois & Six Point Sweet Action, Captain Lawrence Effortless.
BOTTLED BEERS
Peroni Nastro Azzurro, Heineken, Bud Light, Corona Extra, Samuel Adams Boston Lager, Magner's Cider, Goose Island IPA, Moretti Rosa, Guinness Stout, Stella Cider, Ithaca Apricot Wheat & Haake-Beck (Non-Alcoholic).